Salcedo Square - LOCATION
Salcedo Square Is located at L.P. Leviste St., Salcedo Village, Makati.
Salcedo Square sits in one of the best locations in Metro Manila – Makati. The actual location of this condominium is in L.P. Levistre Street right at the center of Salcedo Village. This part of Makati was specifically chosen as the site of this new condominium development because it is quieter and more suitable for a peaceful living environment. Some people might be put off by the idea of living near a central business district and a highly urbanized landscape like Makati. But even if you are that type of person, you won't have to worry about dealing with the noise and commotion of city life.
This part of Makati is a residential district; in fact, Salcedo Village is a discreet business cum-residential district. Hence, it is easy to get in and out of while also quaint, in a sense. You won't have to deal with a heavy traffic in order to get to Salcedo Square. Plus, this area is relatively safe since it is occupied mostly by the dwellers of the nearby village and surrounding condominiums. In fact, you will find that the landscape parks and gardens near the condominium are peppered by joggers or people spending their idle time in cozy cafes.
While the condominium is located in the quieter side of Makati, it still offers easy access to everything you could need, whether for leisure or business purposes. Salcedo Square is literally a stone's throw away from some of the major shopping centers and malls in the area such as the Ayala Triangle Park, Shopwise, Rustan's, Powerplant Rockwell, Greenbelt, Glorietta, SM Makati, and The Landmark. When you are done shopping, you can take a break and enjoy a slow pace of life by sitting in on one of the cafes or restaurants that dot the area. Some of the best restaurants that satisfy the discerning palate of the Makati residents are within a few minutes from Salcedo Square. Your options include Wildflour, Bugsy's, Apartment 1B, and Top of the Citi Restaurant.
Salcedo Square is also surrounded by transport terminals, which makes it convenient for commuters to access one point of Makati (or even Metro Manila) to another with ease. There are taxis, buses and jeepneys available at the main roads. Meanwhile, the MRT Ayala station is also located within walking distance from this condominium.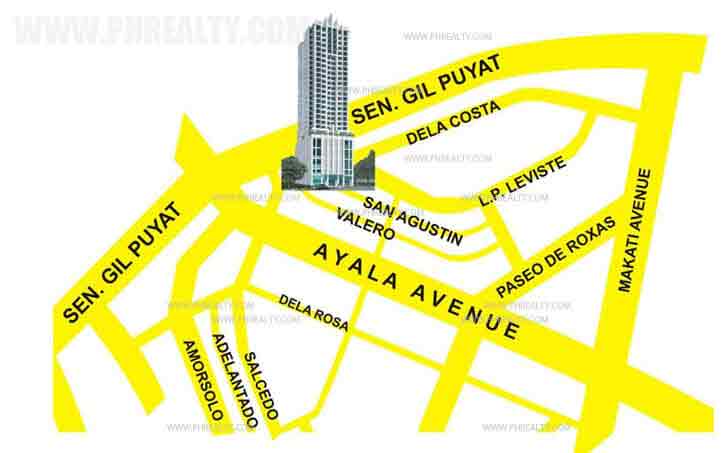 In case of health care needs and other medical emergencies, rest your worries because Salcedo Square is within close proximity to some of the best medical centers in Makati. For example, the Makati Medical Center, St. Luke's Medical Center, and Ospital ng Makati are close by. Just like the hospitals, schools are also easily accessible from Salcedo Square. The schools and universities in question are Mapua Institute of Technology, Don Bosco Makati, Centro Escolar University, and Far Eastern University, among others. Lastly, houses of worship are available in the area. If you need to attend mass or other types of church services, you can choose from the Greenbelt Chapel, St. John Bosco Parish, and International Baptist Church of Manila.